A Critical Analysis of Writers' Charges of Racism, Minority Exploitation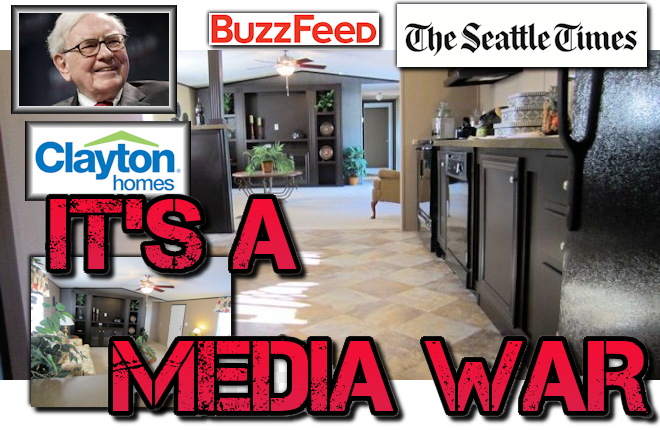 "There are lies, damn lies and statistics." — Mark Twain
"In my case, using what politely might be called 'advocacy journalism,' I've used reporting as a weapon to affect political situations that bear down on my environment." – Hunter S. Thompson

LAKELAND, FL. January 4, 2015 — Take one famously folksy billionaire, add a pinch of cherry-picked stats, stir well with a cast of wronged Native American, black and Hispanic homebuyers and you have the latest tag-team assault on the Warren Buffett manufactured home empire.
What could be more clickable holiday fare than the new installment in a yearlong campaign by two reporters who have pretty much made a career of throwing dirt at one of the richest men on Earth?
How about a tale of bilking poor minorities out of billions of dollars amid an atmosphere so steeped in racism it makes kindly Uncle Warren look like an overseer at Tara in Gone with the Wind?
Who cares if it's not true?
Reporters Mike Baker of The Seattle Times, and Daniel Wagner, who moved from the Center for Public Integrity to BuzzFeed following their first flawed co-authored expose on the life and alleged crimes of Buffett's "many-headed hydra," Berkshire Hathaway and its factory-built home and lending subsidiaries, have once again not allowed facts, balance or common sense get in the way of their troubling narrative.
First, the pair cannot seem to correctly identify the product that Buffett's Clayton Homes produces: manufactured homes.
Beginning with the headlines and throughout every story — hundreds of times — the team of Baker/Wagner refers to them as "mobile homes," even though they must by now know that a mobile home hasn't been produced in America since June 15, 1976, when the U.S. Department of Housing and Urban Development instituted a national building code for factory-built homes that meets — and in many cases exceeds the performance of — traditional site-built homes.

The writing duo's use of the term "mobile home" is clearly meant to invoke the image of shoddy, pre-HUD Code trailer houses, and bestow upon billionaire Buffett the aura of an unscrupulous slumlord presiding over the financial rape of the poor and disenfranchised.
Nor do these so-called journalists, who claim expertise in financial reporting, seem to have even a tenuous grasp on the types of loans available to these buyers and how home-only "chattel" loans for manufactured homes are underwritten.
The data they mined and crunched by race, income and interest rate reached incorrect conclusions, without taking into account the many factors — credit score, down payment, loan size, collateral, land type and ability to pay — that go into determining interest rate.
Moreover, while taking the Buffett-affiliated lenders to task for cornering the market on minority financing, the reporters fail to even mention that Vanderbilt and 21st Mortgage are the only national lenders that make personal property financing (which accounts for two out of three MH loans) available to potential homeowners with a credit score under 650.
It is not hard to corner a market that no one else will serve.
The list of things their series of stories fails to consider or mention is seemingly endless — most notably one reporter's clear conflict of interest: Wagner's sister is a lawyer representing plaintiffs in lawsuits against Clayton Homes.
This is a remarkable sin of omission, one of many committed in the name of shoddy journalism.
In preparing a uniquely informed analysis of the deficits in the Buffett expose, we spoke to a number of minority stakeholders in the manufactured housing industry, as well as several loan officers and experts who specialize in MH lending.
As one lending executive put it,"We will let Clayton address their social issues. We, and I would like to think, they, are color blind — except for the color, green."
You'll find surprising insights and another side of this explosive, but deeply flawed story that is sweeping through the media in the MHLivingNews analysis linked here.
http://manufacturedhomelivingnews.com/lies-advocacy-journalism-and-statistics-seattle-timesbuzzfeed-attacks-warren-buffetts-clayton-homes-defends-charges-of-racism-and-discrimination-critical-analysis/ ##
Photo/Image collage caption and credits = Warren Buffett photo, UK Telegraph; Seattle Times, BuzzFeed, Clayton Homes logos, belong to each respective firm, and are used here within fair use guidelines; photo of an entry level manufactured home, MHLivingNews.com.

MHLivingNews.com and MHProNews.com are the leading trade publications for manufactured housing consumers and MH industry leaders who want up-to-date lifestyle and business news.
Media Contact:
L. A. "Tony" Kovach
Publisher – MHLivingNews.com
Phone: 863-213-4090
Email: [email protected]###